Record Details
| | |
| --- | --- |
| Artist: | Various |
| Title: | Slow-Time |
| Format: | 12"12" EP |
| Label: | WEA |
| Cat No: | 241 808-1 |
| Released: | 1989 |
| Country: | |
| Genres: | Soft Rock |
| Status | Have |
| Added To List | 31st July 2022 |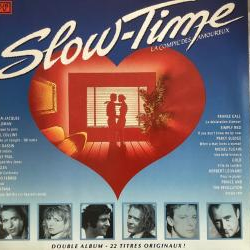 No Notes
A Matrix:
R/S Alsdorf 229 2418008-1-A xx 6
B Matrix:
R/S Alsdorf 229 2418008-1-B2 ₂2
No Notes
A Matrix:
R/S Alsdorf 229 2418008-1-Cx 6
B Matrix:
R/S Alsdorf 229 2418008-1-D 2
Additional Information
Comments
Label cat# are "2 41808-1" on spine and "241 808-1" on labels

Publishers/track :
A1 : Range Road Music Inc./Quarter Music Inc. Adm. by Herald Square Music Corp.
A2 : Pop 'N' Roll Music ASCAP
A3 : P.E.M. Colline
A4 : Olrap Publishing/Conrad Music (A div. of Arc Music)
A5 : Ed. Le Minotaure
A6 : SBK Songs
B1 : none
B2 : Fox Fanfare Music Inc.
B3 : Effectsound Ltd./Hit & Run Music (Pub.) Ltd.
B4 : Rock 'N' Rose Music
B5 : Ed. SBK Songs France
C1 : Mighty Three Music Group/Island Music Ltd.
C2 : Ed. Marouani
C3 : Light Music
C4 : Controversy Music ASCAP
C5 : Ed. Celine Music
C6 : Ed. Agone
D1 : Ed. Beuscher
D2 : Pandora Production
D3 : JRG/NEF Marc Lumbroso
D4 : Assorted Music/Blackwood Music
D5 : Ed. Colline

Phonographic copyright/track :
℗ Compilation 1989 Wea Music
A1 : none
A2 : Warner Bros. Records Inc.
A3, D1 : Wea Filipacchi Music
A4 : CBS Records Inc.
A5, A6, D3 : CBS Disques S.A.
B1, B3 : Wea International Inc.
B2 : Atlantic Recoding Corp.
B4 : CBS Disques
B5 : MLRF Inc.
C1 : Wea Records Ltd.
C2, C6 : Wea Music
C3, D4 : CBS Inc.
C4 : Warner Bros Records Inc. for the U.S. and Wea International Inc. for the world outside of the U.S.
C5 : Celine Music
D2 : Asylum Records
D5 : Wea

"Avec l'aimable autorisation de CBS Disques" for A4, A5, A6, B4, C3, D3 and D4
Want a copy?