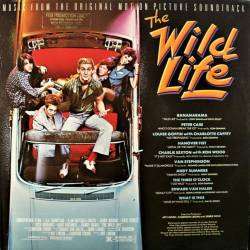 Disc 1 | 12"
Pinckneyville Pressing
A Matrix:
MCA4143
B Matrix:
MCA4144
Additional Information
Comments
[l315076] pressing per ◈-P-◈ stamped in runout with label variation.

Bananarama appear courtesy of London Records
Peter Case appears courtesy of Geffen Records
Charlotte Coffey appears courtesy of I.R.S. Records
Andy Summers appears courtesy of A&M Records
Edward Van Halen appears courtesy of Warner Bros. Records, Inc.
The Three O'Clock appear courtesy of Frontier Records
What Is This appear courtesy of San Andreas Records

Album assembled at MCA / Whitney Recording Studios, Glendale, Ca.
Mastered at Amigo Studios, Burbank, Ca.
℗ 1984 MCA Records, Inc.
© 1984 Universal City Studios, Inc.

A1 recorded and mixed at 5150. ASCAP
A2 produced for P.P.I. ASCAP/BMI
A3 BMI
A4 BMI
A5 ASCAP
B1 BMI
B2 Produced for Outlandis Productions. BMI
B3 BMI
B4 BMI
B5 ASCAP
Want a copy?