Record Details
| | |
| --- | --- |
| Artist: | Boysetsfire |
| Title: | Tomorrow Come Today |
| Format: | CDDVD |
| Label: | Wind-Up |
| Cat No: | 60150-13071-2 |
| Released: | 2003 |
| Country: | |
| Genres: | Hardcore |
| Status | Have |
| Added To List | 28th March 2022 |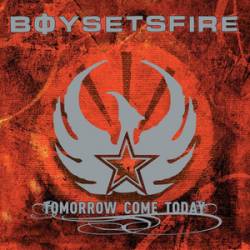 Digipack
A Matrix:
9711 60150130712 D30130-27 A
B Matrix:
M1S1
No Notes
A Matrix:
L802 9711 50130719 @ P30308-36D
B Matrix:
L802 9711 50130719 @ P30309-04D
Additional Information
Comments
Recorded at Ocean Studios - Burbank, CA, Cello Studios - Hollywood, CA, & Mama Joe's Recording - North Hollywood, CA.


(12) - There is a hidden bonus track that starts several minutes after the end of track 12. The track is titled "With Every Intention" and is not mentioned on the CD cover or in the booklet.


(DVD) - The bonus DVD features an 11 song Boysetsfire Live Performance, recorded live on January 25, 2003. It also features "Behind The Scenes Footage" as well as an optional "Song By Song Interview" with the band.

Songs included in the performance are: Release The Dogs, The Force Majeure, Handful Of Redemption, Vehicle, Twelve Step Hammer Program, Pure, Bathory's Sainthood, My Life In The Knife Trade, White Wedding Dress, & Rookie.


On This Recording Boysetsfire Is:
Nathan Gray - Vocals
Rob Avery - Bass / Vocals
Joshua Latshaw - Guitar
Chad Istvan - Guitar / Vocals
Matt Krupanski - Drums

Want a copy?