Record Details
Artist:
Various
Title:
Utamonogatari (Monogatari Series Theme Songs Compilation Album LP Box)
Format:

5x

12"
Label:
Aniplex
Cat No:
SVWJ-70426~30
Released:
25 Dec 2019
Country:
Genres:

J-pop

Soundtrack

Status
Have
Added To List
30th July 2022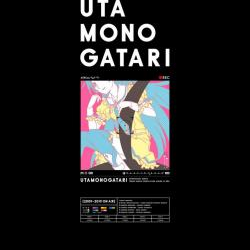 No Notes
A Matrix:
SVWJ-70426 #1 A1 ༓ ༓ ༓༓ yn
B Matrix:
SVWJ-70426 #1 B1 ༓ ༓ ༓༓ yn
No Notes
A Matrix:
SVWJ-70427 #1 A1 ༓ ༓ ༓༓ yn
B Matrix:
SVWJ-70427 #1 B1 ༓ ༓ ༓༓ yn
No Notes
A Matrix:
SVWJ-70428 #1 A1 ༓ ༓ ༓༓ yn
B Matrix:
SVWJ-70428 #1 B1 ༓ ༓ ༓༓ yn
No Notes
A Matrix:
SVWJ-70429 #1 A1 ༓ ༓ ༓༓ yn
B Matrix:
SVWJ-70429 #1 B1 ༓ ༓ ༓༓ yn
No Notes
A Matrix:
SVWJ-70430 #1 A1 ༓ ༓ ༓༓ yn
B Matrix:
SVWJ-70430 #1 B1 ༓ ༓ ༓༓ yn
Additional Information
Comments
Box set releases for Monogatari series' 10th anniversary featuring vocal theme songs, opening and ending songs.
Ships inside a custom cardboard mailer box. Includes obi strip, liner notes (lyrics, credits, a picture of the character whose voice actress sings the song, series name, airing year and story arc name) and printed inner sleeves, each side featuring different heroines:
Disk 1 side A: Hitagi Senjyogahara.
Disk 1 side B: Karen Araragi & Tsukihi Araragi.
Disk 2 side A: Nadeko Sengoku
Disk 2 side B: Suruga Kanbaru
Disk 3 side A: Tsubasa Hanekawa
Disk 3 side B: Mayoi Hachikuji
Disk 4 side A: Shinobu Oshino
Disk 4 side B: Ougi Oshino
Disk 5 side A: Sodachi Oikura
Disk 5 side B: Yotsugi Ononoki

A2: Kaerimichi = The Way Home
A4: Renai Sākyurēshon = Love Circulation
B2: Kimi No Shiranai Monogatari = A Story That You Do Not Know
B3: Futakotome = Favourite Phrase
C1: Shirogane Disuko = Platinum Disco
C2: Naisho No Hanashi = Secret Story
C4: Kieru Daydream = Daydream Disappears
D3: Aiwoutae = Sing Of Love
E1: Hanaato -shirushi- = Flower Tracks -Signs-
E2: Mōsō♥ekusupuresu = Delusion♥Express
E4: Sono Koe O Oboe Teru = I Remember That Voice
F2: Kogarashi Sentimento = Wintry Wind Sentiment
G1: Orenji Minto = Orange Mint
H1: Yūdachi Hōteishiki = Evening Shower Equation
H2: My Sweetheart
H3: Sayonara No Yukue = The Outcome Of Goodbye
I2: Bookmark
J1: Star And You

Tracks A1-A3, B1, and B4 recorded at STUDIO em POINT
Tracks A4, G4, and H1 recorded at prime sound studio form
Tracks B1, F1-F3, H4, H5, and I5 recorded at Studio Sound Valley
Tracks B2 and E2 recorded at Bunkamura Studio
Track B2 recorded at Studio MSR
Tracks B3 and B4 recorded at Azabu O Studio
Track C1 recorded at HITOKUCHI-ZAKA STUDIO
Tracks C1, D1, J1, and J2 recorded at Sound City
Tracks C1, C3, C4, D2, and J3 recorded at Splash Sound Studio
Tracks C3-D2, and E2 recorded at MIT STUDIO
Track D3 recorded at Rokubancho Studio
Track D4 recorded at STUDIO Dedé
Track E1 recorded at ONKIO HAUS and Studio Cubic
Track E3 recorded at Avaco Creative Studio
Track E4 recorded at Sony Music Studios Tokyo
Tracks F1 and F2 recorded at studio GREENBIRD
Tracks F1-F3, G3-H2, H5, and J3 recorded at SOUND INN STUDIO
Tracks H4 and J3 recorded at catapult studio
Track H5 recorded at MONACA STUDIO
Track I2 vocals recorded at Geimori Studio
Tracks I4 and I5 recorded at A-tone Nishiazabu

Track B2 mixed at atelier Q
Tracks B4, D1, D2, E2-F3, and J3 mixed at Splash Sound Studio
Tracks C2 and I3 mixed at studio MSR
Tracks C3 and C4 mixed at Sound City
Track D3 mixed at Maruni Studio
Track E1 mixed at Studio Cubic
Tracks F1, F2, H5, and I4 mixed at STUDIO SOUND VALLEY
Tracks G1 and G3-H2 mixed at Tune Studio
Tracks G2 and I2 mixed at Sign Sound Studio (misspelled "SING SOUND STUDIO")
Track H4 mixed at ABS Studio
Track I5 mixed at Sony Music Studios Tokyo
Tracks J1 and J2 mixed at Sign Sound Studio
Want a copy?