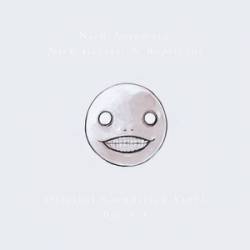 No Notes
A Matrix:
SQEX 10610 A
B Matrix:
SQEX 10610 B
No Notes
A Matrix:
SQEX 10611 C
B Matrix:
SQEX 10611 D
No Notes
A Matrix:
SQEX 10612 A2
B Matrix:
SQEX 10612 B
No Notes
A Matrix:
SQEX 10613 C
B Matrix:
SQEX 10613 D
Additional Information
Comments
A special box set that includes the NieR: Automata Original Soundtrack Vinyl and NIER Gestalt & Replicant Original Soundtrack Vinyl. This box with four LP records includes a total of 35 tracks selected by the composer, Keiichi Okabe.

Early copies of the box set were sold exclusively at Japan's Tokyo Game Show in September of 2017.

While this box set has been described as a limited quantity run, there are no reports of how many copies were pressed. However, it is known that there have been multiple pressings, as evidenced in part by the inclusion in a number of copies of a sticker promoting the NieR 10th Anniversary campaign that took place in 2020.

Packaged in a clamshell box, the set includes each album in its own gatefold sleeve, with illustrations throughout the set by manga artist [a6212909] and written comments from composer [a412155] and NieR series creative director [a3946224] on the box's lid. Each album in the set contains an insert with lyrics for each of their final tracks, another written comment by Okabe and Taro and album credits.
Want a copy?