Record Details
Artist:
Acceptance
Title:
Colliding By Design
Format:
12"
Label:
Rise Records (3)
Cat No:
355-1
Released:
2017
Country:
Genres:

Pop Punk

Pop Rock

Status
For Trade/Sale
Added To List
9th August 2018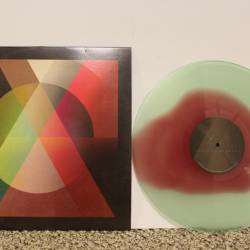 Disc 1 | 12"
Coke Bottle Clear/Oxblood Swirl
Additional Information
Comments
Produced by Aaron Sprinkle. Engineered by Aaron Sprinkle, Brett Baird, Matt Carter, Tom Meyers, Bobby Darling. Recorded at The Pier (Thompson's Station, TN), Jupiter (Seattle, WA), Ground Control Recording (Seattle, WA), Fastback Studios (Shoreline, WA). Mixed by John O'Mahony (tracks 2, 3,4,0), Adam Hawkins (tracks 1,5,6,10,11), JR McNeely (track 7), Nick Rad (track 8). Mastered by Troy Giessner at Spectre Mastering (Seattle, WA). ACCEPTANCE is: Jason Vena, Christian McAlhaney, Kaylan Cloyd, Garrett Lunceford, Ryan Zwiefelhofer. Management: Kyle Griner for Wright Entertainment Group. Booking: Nick Storch & Tom Linden for Artist Group Int'l.Legal: Mike McKoy for Serling, Rooks, McKoy & Worob, LLP

Album cover image by Brandon Rike. Album layout and design by Joshua Krohn. Additional vocals on "When I Was Cursed" by Amy Meeko. All songs written by Acceptance and Aaron Sprinkle. Copyright 2017. Published by Lords of Tone (ASCAP), Flush On The Flop Music (BMI). Made in Czech Republic by Pirate Press.

THANK YOU To our families, our friends, to the people who have supported us through love and hope for a new record over these long twelve years, to all of the people who have traveled with us, shared stages with us, provided wisdom and challenge, past and present, we thank you entirely. It would be almost impossible for us to tell you precisely what you mean to us and the making of this record. We hope Colliding By Design find you well.

Limited to 400. Only available in a bundle from merchnow.
Want a copy?