Record Details
Artist:
Death
Title:
The Sound Of Perseverance
Format:

2x

12"Other
Label:
Relapse Records
Cat No:
RR7154
Released:
9 Jul 2021
Genres:

Death Metal

Progressive Metal

Status
Have
Added To List
20th November 2022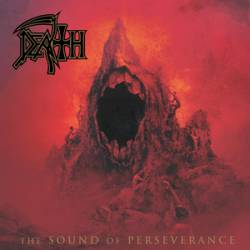 Orange [Transparent] With Red Butterfly Wings And Metallic Gold, Black And Orange Splatter
A Matrix:
RELAPSE RECORDS - RR7154-1 - SIDE A 199812E1/A
B Matrix:
RELAPSE RECORDS - RR7154-1 - SIDE B 199812E2/A
Red [Transparent] With Orange Butterfly Wings And Metallic Gold, Black And Red Splatter
A Matrix:
RELAPSE RECORDS - RR7154-1 - SIDE C 199812E3/A
B Matrix:
RELAPSE RECORDS - RR7154-1 - SIDE D 199812E4/C
No Information Provided
Additional Information
Comments
Issued in a gatefold cover with credits and liner notes on the inside.
Includes a 4-page insert with photos, lyrics and credits.
7995 copies made.

Sequentially listed tracks regardless of sides.
Runouts are stamped.

Hype sticker text:
Custom butterfly with splatter edition

Inside cover:
"Whoever fights monsters should see to it that in the process he does not become a monster. And when you look long into an abyss, the abyss also looks into you." Friedrich Wilhelm Nietzsche

Back cover:
©&℗ 1998, 2011, 2016 Perseverance Holdings Ltd. under exclusive license to Relapse Records Inc. [...]
Made in EU.

Insert:
Bass performed by [a402694] on the 1997 demo versions of A Story to Tell, A Moment of Clarity and the 1998 demo versions of Bite the Pain, A Moment of Clarity, A Story to Tell and Scavenger of Human Sorrow.
Lineup on the 1998 versions of Spirit Crusher, Flesh and the Power it Holds, Voice of the Soul: Chuck Schuldiner • Guitar / Vocals, Richard Christy • Drums, and Shannon Hamm • Guitar
Drums on 1996 Instrumental Demos, 1996 Demos and the 1997 version of Bite The Pain performed by [a2028617].
Engineered, mixed and mastered by Jim Morris at Morrisound Studios, Tampa, Florida.
All songs published by Mutilation Music (BMI).
Legal & IP management by Eric Greif, Orchard Hill Law, for Perseverance Holings Ltd.
DIX - Published by EMI April Music Inc. (ASCAP)
Want a copy?