Record Details
| | |
| --- | --- |
| Artist: | Kiss |
| Title: | Fancy Fair |
| Format: | 12" |
| Label: | Polystar (2) |
| Cat No: | RH 049 |
| Released: | 1985 |
| Country: | |
| Genres: | Hard Rock |
| Condition | Excellent |
| Status | Have |
| Added To List | 25th January 2021 |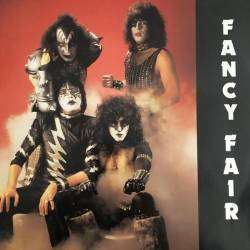 No Information Provided
Additional Information
Comments
"(Rare songs from) KISS - FANCY FAIR" is printed on back cover.
KISS members are listed on the back cover as [a=Gene Simmons], [a=Paul Stanley], [a=Eric Carr], [a=Bruce Kulick]. (However, [a=Ace Frehley] is on the cover, not Bruce Kulick)

- According to various Kiss fan sites "The Council of the Elder" is a 1983 demo including the riff to Gimme More from the Lick It Up album. The title is not confirmed by the band members.
- "Gimme Everything" is a demo of Gene Simmons working on a song idea
- "Don't Run" is an early version of Ace Frehley's song "Dark Light" on the Kiss album Music From the Elder
- "You/It Was You Who Left Me" is a recording of Kiss writing the song Exciter together".
- "A Million to One", "Exciter" and "Lick It Up" are Kiss demos of songs for the Lick It Up album
- "Kix are for Kids" is a Kiss instrumental demo from the early 1980s. The title is not confirmed by any band member.
- "Boys Wanna Rock" is a pre-Kiss demo by Vinnie Vincent. Parts were later re-used both for "And On the 8th Day" by Kiss, and "Boyz Are Gonna Rock" from Vinnie Vincent Invasion's debut album
- "Ring Ding Do" is by another artist named (Jumpin') Gene Simmons - see link
- "Love Me Too" is an Eric Carr drum track for an unreleased song circa 1983
- "Suicide" is by the band Zon and has nothing to do with Mark St. John. The Zon track can be found with better quality on this album, [m657375]

Want a copy?