Record Details
| | |
| --- | --- |
| Artist: | Kiss |
| Title: | Fancy Mix |
| Format: | 12" |
| Label: | Polystar (2) |
| Cat No: | CK 052 |
| Released: | 1985 |
| Country: | |
| Genres: | Hard Rock |
| Condition | Excellent |
| Status | Have |
| Added To List | 25th January 2021 |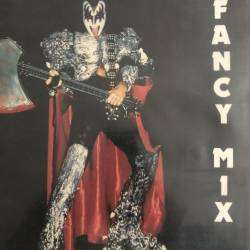 No Information Provided
Additional Information
Comments
Back cover text:
"(Rare songs from) Kiss - Fancy Mix"
"Kiss - [a=Gene Simmons], [a=Paul Stanley], [a=Eric Carr], [a=Bruce Kulick]
"Also Available - Kiss - [r=6658959] (No. RH 049), with Council of the Elder, Gimme Everything, Don't Run, Ring Ding Do, Love Me Too, Suicide, Kix Are For Kids and many more!!!"

Just as with the unofficial releases called [r=6596612] and [r=6658959] this record also contains non KISS related stuff and wildly incorrect information about the songs and bands on the back cover.

A1 and A2 are the only authentic Kiss demos on this album.

A1 is an early version of the 1981 song where Paul can be heard singing an early, pre-[a=Lou Reed] set of lyrics in the background, so not actually instrumental. Also known as "I Want You Only" due to a line that can be heard sung by Paul on this demo.

A2 is a demo from 1981, based on a 1977 Gene demo called Sentimental Fool. Elements from this song resurfaced in a late 1980s demo called Promise the Moon, available on [r10887805]. The title is made up and has never been verified by any member of Kiss, on the album [r=6596612] the same recording is titled "The Unknown Force"

Circus Circus (A3) is an early band with Lead singer/songwriter of [a=W.A.S.P.], [a=Blackie Lawless] with future WASP members [a=Randy Piper] and [a=Tony Richards (4)] and onetime [a=Ozzy Osbourne] bassist [a=Don Costa (3)].

Tattoo (A6), & Zon (B2) are completely different bands and have nothing to do with Kiss at all. The Zon track can be found with better quality on this album, [m657375] while the Tattoo track is from [m440076]

Thunder in My Heart, (B1) has mistakenly been identified as Motown soul and funk band [a=Kagny & The Dirty Rats] but has nothing to do with that band either, the real performer is a band called [a=U.S. Airwave], and the song is taken from this compilation album: [r4757303]

The year and location printed on the cover for the Live recordings are also assumed to be incorrect even if the exact location and year haven't been identified
Want a copy?