Record Details
| | |
| --- | --- |
| Artist: | Åge Aleksandersen Og Sambandet |
| Title: | Dains Me Mæ |
| Format: | Cassette |
| Label: | Norsk Plateselskap AS |
| Cat No: | NOP 1919 |
| Released: | 1982 |
| Country: | |
| Numbered: | #48 |
| Status | Have |
| Added To List | 2nd August 2021 |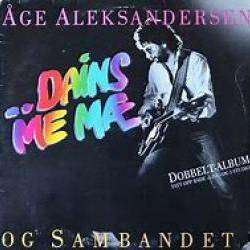 Disc 1 | Cassette
No Notes
A Matrix:
A1 Dains Med Dæ 4:13 A2 Hainn Va Sju 3:30 A3 Rene Reidar 3:30 A4 Barnehender 4:54 A5 Gamle Svarten 4:18 A6 Rio De Janeiro 4:11 A7 Berre Liv 4:13 A8 Det Finns En Sang Bortom Fjellet 5:01 A9 Frihelga Mi 3:35 A10 Saturday Night Cowboys 1:25
B Matrix:
B1 Norge Mitt Norge 4:42 B2 Gøril 3:36 B3 Love Minus Zero/No Limit 5:53 B4 Wash My Hands 5:18 B5 Blått Hav 4:37 B6 Kom Bli Med Mæ No I Natt 3:35 B7 Blue Moon Of Kentucky 2:35 B8 14 Pages 4:40 B9 Promised Land 4:25
Additional Information
Comments
Dains me mæ er et musikkalbum utgitt av Åge Aleksandersen & Sambandet i 1982. Den originale LP-utgivelsen var et dobbeltalbum, der side en og to besto hovedsakelig av nye sanger, mens side tre og fire besto av coverlåter og konsertopptak.

Inside gatefold sleeve:
Den ene plata er tatt opp på Vestlands-turneen 1981:
20.nov. Måløy
21. nov. Florø
22. nov. Sognefjord Turisthotell Hermannsverk
23. nov. Sandane
24. nov. Høyanger
25. nov. Øvre Årdal
26. nov. Fagernes
27. nov. Skarnes, Veikroa
28. nov. Dovre
29. nov. Trondheim

Text not appearing on the release:
This is a double LP from Norwegian artist Åge Aleksandersen where the first LP is a studio recording with mostly new material, and the second LP is a live recording of mostly older material and cover versions.
The song "Gamle Svarten" is a norwegian version of the song "Old Faithful" by Hamilton Kennedy and Michael Carr.
The live recordings is from one or more of 10 concerts done in the west of Norway in november 1981.

Want a copy?