Record Details
Artist:
Bob Dylan
Title:
Bringing It All Back Home
Format:
12"

Reissue

Label:
Columbia
Cat No:
JC 9128
Released:
1974
Country:
Genres:

Singer/Songwriter

Folk Rock

Electric Blues

Condition

Very Good

Status
Have
Added To List
14th February 2017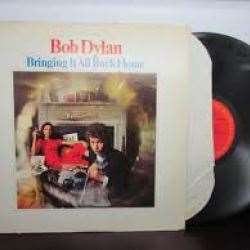 Columbia (red/orange)
A Matrix:
XSM 79423-2K A 0
B Matrix:
XSM 79424-2G 1 D b 0
Additional Information
Comments
5th album. (1965 - Rei 1974) Paper sleeve.

PERSONNEL:
Bob Dylan – vocals, guitar, harmonica, keys
ADDITIONAL...
John Boone – bass
Al Gorgoni – guitar
Bobby Gregg – drums
Paul Griffin – piano, keyboards
John P. Hammond – guitar
Bruce Langhorne – guitar
Bill Lee – bass
Joseph Macho, Jr. – bass
Frank Owens – piano
Kenny Rankin – guitar
John B. Sebastian – bass

This is an early 1970s reissue.

(First pressings are "360 Sound Stereo" with arrows in black around the label.
Second pressings have this in white.
Later represses has an orange label with the same catalog number.
Subsequent represses change the letter prefix (JC, KCS, PC instead of CS).

FRONT: Columbia logo w/"stereo 9128" above on Top-R.

Ranked #31 on RS list of 500 greatest albums of all time.

FRONT COVER
Dylan sits forward holding his cat (named Rolling Stone)[9] and has an opened magazine featuring an advertisement on Jean Harlow's Life Story by the columnist Louella Parsons resting on his crossed leg. The cufflinks Dylan wore in the picture were a gift from Joan Baez, as she later referenced in her 1975 song "Diamonds & Rust".

BACK COVER...
the girl massaging Dylan's scalp is the filmmaker and performance artist Barbara Rubin.
(spektrum)
Want a copy?