Record Details
Artists:
The KT Fellowship / Kate Bush
Title:
Before The Dawn
Format:
12"
Label:
Fish People / Concord Records
Cat No:
0190295920166 / CRE00303
Released:
25 Nov 2016
Genres:

Art Rock

Pop Rock

Status
Have
Added To List
24th July 2018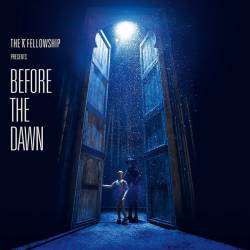 No Notes
A Matrix:
BG46276-01 A2 BG 0190295920166-A "V"
B Matrix:
BG46276-01 BA1 BG 0190295920166-B V
No Notes
A Matrix:
BG46276-02 C1 BG 0190295920166-C V
B Matrix:
BG46276-02 D1 BG 0190295920166-D V
No Notes
A Matrix:
BG46276-03 E1 BG 0190295920166-E V
B Matrix:
BG46276-03 F1 BG 0190295920166-F V
No Notes
A Matrix:
BG46276-04 G1 BG 0190295920166-G V
B Matrix:
BG46276-04 H1 BG 0190295920166-H V
Additional Information
Comments
4 LP box set including 24-page booklet of liner notes, photographs and credits.

In loving memory of Ian Newton.

℗ 2016 The copyright in this sound recording is owned by Noble & Brite Ltd. © 2016 Noble & Brite Ltd. This label copy
information is the subject of copyright protection. © 2016 Noble & Brite Ltd. Made in the E.U.

This version appears to have been sold and distributed in the United States under barcode 888072016583, which was done by placing a sticker over the original barcode. In turn, the United States version's hype sticker contains a Concord Records catalog number CRE00303. Copies purchased under that barcode in the United States do not appear to be a separate release, but simply contain different stickers on the outside of the shrink wrap.
Want a copy?