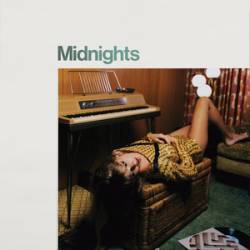 Disc 1 | 12"
Jade Green Marbled, Signed
A Matrix:
2445789825 - A5 re1 (1) MPO 22 278656 RKS STERLING M2
B Matrix:
2445789825 - B (3) RKS STERLING MPO 22 278673
Additional Information
Comments
Midnights: Jade Green Edition Vinyl with Hand Signed Photo

Each Vinyl Album Includes:
13 Songs
Collectible, hand signed vinyl insert, featuring a unique photo of Taylor Swift (11" x 11")
1 of 4 collectible album jackets with unique front and back cover art
1 of 4 unique marbled color vinyl (the Jade Green Edition features a jade green marbled color disc)
1 of 4 collectible album sleeves (each side features a different full-size photo of Taylor)
1 of 4 full-size gatefold photos
A collectible 8-page lyric booklet with never-before-seen photos

Taylor Swift webstore exclusive availabe via pre-order for 48 hours until midnight of October 15, 2022.

Not to be confused with similar [r24890252] with a different barcode, different hype sticker and without the additional hand signed print.

℗ 2022 Taylor Swift
Made in France.
Want a copy?