Record Details
Artist:
Guns N' Roses
Title:
Appetite For Destruction
Format:
12"12" EPOther EP
Label:
Geffen Records / Universal Music Enterprises / Uzi Suicide
Cat No:
B0028153-01 / B0028153-01 / B0028153-01
Released:
29 Jun 2018
Genres:

Hard Rock

Classic Rock

Arena Rock

Rock & Roll

Status
Have
Added To List
24th March 2023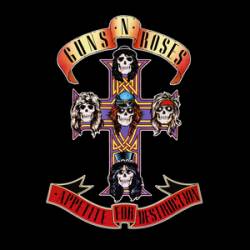 No Notes
A Matrix:
00602567483915-A 172620E1/A2
B Matrix:
B0028153-01 LP1G 00602567483915-G
Hologroove Hologram
A Matrix:
00602567483915-B 172620E2/A3
B Matrix:
B0028153-01 LP1N 00602567483915-N
180 Gram
A Matrix:
00602567483922-A 172624E1/A1
B Matrix:
B0028153-01 LP2R 00602567483922-R
Additional Information
Comments
• First Ever Album Remaster from Original Analog Tapes
• Original Album Expanded to 2-LPs (180G) for Maximum Audiophile Playback
• Vinyl Cut from 192kHz 24-bit Remastered High-Resolution Audio
• Limited Edition Foil Art Slipcase around Gatefold
• Side 4 Extra Bonus: Hologroove Hologram of GN'R Logo
• Download code for 44.1kHz 16-bit audio files. Offer expires December 31, 2020.

Includes printed insert sheets containing photographs, lyrics, an explanation of the 2-LP vinyl edition and hologroove process, and credits.

The download consists of 24 .aif files - 'CD1' and 'CD2'.
The 'CD1' files are the album tracks; 'CD2' contains the same tracks as CD2 of [r=12187577]:
01 Reckless Life
02 Nice Boys
03 Move To The City (Live)
04 Mama Kin
05 Shadow Of Your Love (Live)
06 You're Crazy (Acoustic Version)
07 Patience
08 Used To Love Her
09 You're Crazy
10 It's So Easy (Live)
11 Knockin On Heaven's Door (Live)
12 Whole Lotta Rosie (Live)


ⓅⒸ2018 UMG Recordings, Inc.
Want a copy?