Record Details
Artist:
Paul McCartney & Wings
Title:
Wings Over America
Format:

3x

12"

Gatefold

Label:
Capitol Records / Capitol Records / MPL (2) / MPL (2)
Cat No:
SWCO 11593 / SWCO-11593 / (1398) SWCO-11593
Released:
10 Dec 1976
Country:
Genres:

Pop Rock

Classic Rock

Condition

Very Good+

Status
Have
Added To List
9th October 2018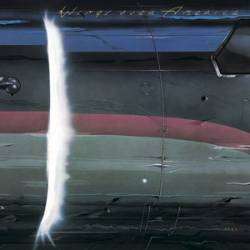 Capitol Records (green/blue)
A Matrix:
SWCO 1 11593 G1 Sub #1 MASTERED BY CAPITOL 0
B Matrix:
SWCO 2 11593 G1 Sub #2 0 MASTERED BY CAPITOL
Capitol Records (green/red)
A Matrix:
SWCO 3 11593 G1 #1 MASTERED BY CAPITOL 0
B Matrix:
SWCO 4 11593 G5 #1 0 MASTERED BY CAPITOL
Capitol Records (white/brown)
A Matrix:
SWCO 5 11593 G1 Sub #3 0 MASTERED BY CAPITOL
B Matrix:
SWCO-6-11593 G12 #1 MASTERED BY CAPITOL 0
Additional Information
Comments
Only live album. Gatefold w/band drawing. Custom sleeves w/20 x 30 poster.

PERSONNEL:
Paul McCartney – vocals, bass, acoustic guitar, piano, keyboards
Linda McCartney – keyboards, b-vocals, percussion
Denny Laine – guitars, bass, b-vocals, piano, keyboards, percussion, harmonica, (Lead vocals on "Spirits of Ancient Egypt", "Richard Cory," "Time to Hide", and "Go Now")
Jimmy McCulloch – guitars, bass, b-vocals, (lead vocals on "Medicine Jar")
Joe English – drums, percussion, b-vocals
ADDITIONAL:
Tony Dorsey – trombone, percussion
Howie Casey – sax, percussion
Steve Howard – trumpet, flugel, percussion
Thaddeus Richard – sax, clarinet, flute, percussion.

"G" suffix runout variation.
Pressed at Capitol Records in Jacksonville.
The "0" in the deadwax is very faint.

There are three jacket variations.

This album has 4 lights (2 green-2 red) at bottom right corner on the front.

Issued in Gatefold jacket w/custom color labels, graphic inner sleeves, and one large folded 20"x 30" dual sided color poster.

FRONT COVER:
2 green & 2 red lights at bottom-right. (none on back)
(spinitagain)
Want a copy?